The Misano GP just finished with very dramatically happened since the start of the race until the end of the race. At first the race forced to stop due the technical engine of Karel Abraham and some other said the starting light didn't function as well as it must to be.
And due of that little incident, all rider need to do warm up lap for one more time, and the drama continue but for this time come for Dani Pedrosa, he look got trouble on his engine and need to start from the back of the grid, but the bad luck not stop until that after force hard to catch up the other riders, he got crashed but this time not because his own engine but his back wheel touched by Hector Barbera, and make both of riders crashed in the first lap. Really sad to look it happened when he was very close to get point by point to be World Champion 2012. Always something happened to stop it and always not came from himself. I'm not his huge fan but too look like this really make me sad and unhappy.
While that happened Lorenzo lead the race and keep it until finish line and one again make him strong on world standing to get his 2nd MotoGP World Champion 2012. But the one make all MotoGP lover extremely happy is Valentino Rossi. With all the charisma he has, he ride the bike very comfort even Stefan Bradly following tightly from behind. While they all try the best lap by lap, at the moment on lap 5, Cal Crutchlow crashed and out from his 5th place and he look hurtt with his leg but at the end of the race he on his official twitter account just said it will ok and will try again at Aragon.
pic by MotoGP.com
And Valentino Rossi with his new frame and swing arm more focus and strong on his 2nd position, while the battle happened for 3rd place between Stefan Bradl, Alvaro Bautista and Andrea Dovizioso. But as we know Misano GP is MarcoGP #SuperSic, so believe or not, the power of him just come to push Alvaro Bautista's bike and make him can all out and get the 3rd place after did some battle against Andrea Dovizioso with a gap only +0.003 second (I don't know actually how to count so accurate like that)
And the real champion is of course Valentino Rossi, we know lot of riders can finish on 2nd place but when it was Valentino Rossi after very difficult season for him with that bike, it's really something amazing for all crowds about 45.000 people at Misano circuit and for millions of fans on around the world. He just show to us what the meaning of racing, what the meaning of never give up. Just clearly in every dark we will find the light.
Really precious podium, Valentino Rossi finished 2nd place as Marco Simoncelli best friend and Alvaro Bautista for 3rd place as Marco Simoncelli Team.
pic. by TIM_OFFICIAL
Congratulation for all people who happy with this sport and this result and I would like to give a big hug to Jeremy Burgess who always patient and smile in very difficult moment on last two year. Thank you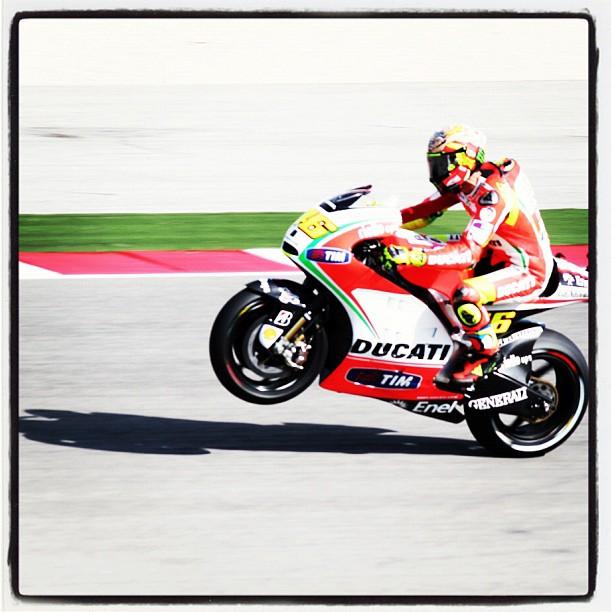 pic by TIM_OFFICIAL